THE CHICAGO ROYAL AIRS
1967-1968
---
Discipline, commitment, passion and character described the Royal Air color guards thoughout Big Blue history. The 1967 guard certainly epitomized the spirit of the Royal Air Family.
---
Ken Kosmoski(far left)breaks the code of discipline during a parade. Terry Doran and Dennis Evans take on rookies in "mumbly-peg". Sie Lurye and the Cavies' Don Warren look over score sheets. Big Thurmond Turner on snare. Later in 1967, he strapped on two bass drums...who needs quads?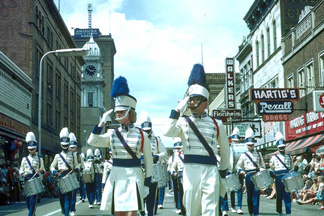 Serge Uccetta and Janice Johnson led the '67 RA to a great season.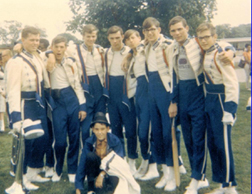 Randy Kremeier, Terry Doran, Bob Gilchrist, Steve Kreier, Bob Freres, John Zimny, Bob Doran, Tommy Devitt and Paul Zimny(kneeling).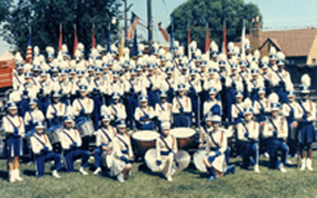 The 1968 Royal airs