WELCOME TO THE PROTECTED PAGE FOR MEMBERS AND ALUMNI ONLY
This page is password protected to provide valuable information relevant to members and alumni. In order to hold membership interest, this page will remain interactive and will be consistently updated to include interesting and relevant information. Please check here often.
---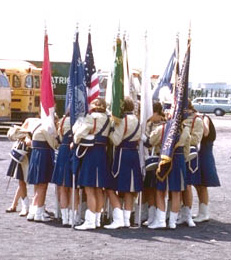 From the 1966 "Pageant of Drums": FAITH-HONOR-HUMILITY--these are the three watch-words which have guided the Royal-Airs for the past seven years. but words alone have not made the Royal-Airs the finest precision musical marching unit in the world. Hours upon hours of diligent rehearsing until every movement was precise; every note exact. Were you to pinpoint the continued effort displayed by RA, however, you would have to again say :Faith, honor and humility--faith in God; honor shown not only to the staff, instructors, and fellow corps members, but also in utmost respect to their parents; and humility--that second effort of spirit that makes them accept defeat in the same tradition as victory. In 1967, other values were emphasized as well:Faith, Honor, Humility, Honesty, Loyalty, Poise, and Esprit d'Corps: The values that continue to guide the Big Blue.
1961 Musical Festival of Champions
Royal-Air Soprano Finishers: Joe Swierczek(2); Jim Angarola(3); Carm Logalbo(5); Tom Devitt(7); Bob Lurye(9); Gary Glowinski(11); Chris Ferrara(13); Bill Ryan(14); Tom Landry(15); John Lewis(17); Art Medel(18)
Baritones: Noel Mertz(3); Mike Ramelli(4); Don Siwak(5); Bob Ryan(10); Joe Cahppell(11). Bill Kalady took 3rd in open class baritone behind Roman Blenski of Norwood.
French Horn: Terry LaPlante(2);Ken Szadowski(3); Amatore Menle(5)
Open Class Tenor Drum: Steve Fagiano(4)
Open Class Snare Drum: John Labarbara(5)
Class A Snare: Jack Rosner(2); Pete Gennuso(5); Rodger Serola(6)Same DiPrima(8)

Note: Some listed were members of St. Michael's Chi-Angels at the time.




SPECIAL ROYAL AIR HOTEL IN BENSONVILLE: Country Inn and Suites: 777 E. Grand Avenue. Phone: 630-279-0100. Special Royal Air room rates.
Rehearsal Camps now scheduled for Fenton High School in Bensenville, Illinois. Go to the 2005 RA Exhibition Corps page on this website for a complete schedule.



CLICK HERE FOR MAIN PAGE