THE 2003 CHICAGO ROYAL AIRS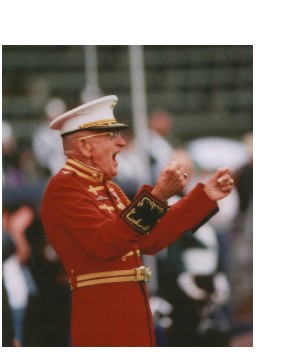 The Chicago Royal Airs will proudly take the field again in 2003 in honor of Col. Truman W. Crawford(retired). Col. Crawford, director of both the United States Air Force Drum and Bugle Corps and the USMC Drum and Bugle Corps, composed and directed music for the Royal Airs, the Yankee Rebels, the Toronto Optimists, the Argonne Rebels, the McHenry Viscounts and many other corps both past and present. He remains a symbol of musical excellence for the Royal Airs, who will pay special tribute to "the Colonel" by performing HIS repertoire written especially for the Big Blue.
---
THE 2003 BOARD OF DIRECTORS AND STAFF:
James Angarola, President
Carm Logalbo and Serge Uccetta, Vice-Presidents
Robert Doran, Treasurer
Portia Harper, Secretary
Jackie Borrelli and John Zimny, Directors At-Large
Jackie Lurye-Borrelli, Corps Director
Anthony Laskowski, Asst. Corps Director
John and Paul Zimny: Show Coordinators
John Zimny and Paul Zimny, Head Instructors
John Zimny, Brass;Gregg Neuleib, Keith Harper and Joe Swierczek, Assts.
Paul Zimny, Field Show; Serge Uccetta, Asst.
Percussion Instruction: Jim Schehr, Head Instructor; Ed Roberts and Adam Szlagowski, Assts.
Kirt Kinyon, Guard; Larry Desguine, Asst. Guard

---
2003 REPERTOIRE: Chicago/Ballyhoo, John Brown's Body, Birth of the Blues, Voodoo Moon, Shadow of Your Smile, Taps for Truman



INTRODUCING THE 2003 ROYAL AIR ROSTER


POSITIONS AVAILABLE IN ALL SECTIONS. Requirements: 21 years of age; $200 dues assessment; uniform expenses (approx $300 for new members); equipment can be provided; commitment to rehearsal and performance schedule...we do allow some flexibility. Some financial assistance may be available.EMAIL JACKIE BORRELLI: jsb0119@aol.com


SOPRANOS

Sam Agnello, Jim Angarola, John Aslakson, Gary Bakker, Bill Baur, Nancy Bender, Bill Blomquist, Kirkland Burke, Larry Caro, Jim "Superman" Carson, Pat Castor, Tommy "The Skate" DiPrima, Dennis "Dog" Evans, Chris Ferrara, Gary Glowinski, Connell Griffin, Keith Harper, Christine Henze, Ray Holtz, Don Kosmal,Kevin "Screech" Laskowski, Jim Linley, Ralph Marsh, Jim Mikowski, Phillip Moore, Bob Nehmer, Steve Pattengale, Jerrett Paull, Cisco Rivera, Dave Scott, Joe"Hail Caesar" Swierczek, Ken VanVoorhies, Tom Walter (34)


MID VOICES

Rich Campbell, Terri Dittrich, Bob Gilchrist, Jeff Helgeson, Louis Klozik, Larry Schlenker, Kevin Lange,Ami Menli, Brian Pennington,Tim Rothenburger, Paul Smith, Robert Smith, Ken Szadowski, Tom Walker (15)


BARITONES

Merle Beebe, Colin Borck, Joe Boyle, Bill "The Barge" Kaliday, Tom Carlson, John Davita,Bob Doran, Terry "Mama Bear" Doran, Jeff Fechner, Carl "Papa Bear" Fiocca, Rich Glaeser, Wayne Kemp, Doug "Pooh Bear" Kenyon, Tony Laskowski, Ramonde Lewis, Mike Margraf, Marvin McClellan, John Olker, Ron Patten, Pat Ramelli, Fred Schroeter, Don Sonne, Dennis Spurlin, Rich Tessitore (24)


CONTRA BASSES

Jim Cunningham, Mike Eckle, Jim Grothman, Josh Grothman, Scott Jameson, Will Koenig, Michael Kolle, Larry Nelson, Pat Patterson, Rich Stanczak, Jeff Underwood(11)


PERCUSSION

Don Dumper,Ken "Mouse" Fligelman, Steve Freres, Richard "Mouse" Geis, Mike Ghilardi, Jim Giordano,Chris Gross, Jeff Hart, Jeff Heefner,Jim Kemnitz, John Labarbara,Ray Mietus, Rich Meyer, Tim Meyer, Paul Milano, Bill Morgan, Bob "Mr.RA" Mujica, Scott Nickels, Terry Owens, Jim Schehr,Tom Schultz, Skip Swoverland, Lenny Szulc, Jim Tarbox(31)


COLOR GUARD

Cindy Bateman(r), Joanne Borck, Patty DelGreco, Christa Dettmann, Debbie Dettmann(r), Donna Gaura(r), Marguerite Glaeser, Art Green, Gemette Grothman, Portia "The Rev" Harper,Rosanne Healey, Marianne Kae, Sue Gilchrist-Lemke, Paula Klotz-Luberda,Trish Lisby, Lori Meyer, Maureen Nelson, Vicki Niswonger, Adrianne Mahoney, Jacky Patterson, Nancy Pratte(r), Paula Sprovieri, Sissy Rivera-Breyer, Kathy Roberge, Michelle Ryan, Peg Saip(r), Judy Steinohrt, Barb "The Hat" Stoffel(r), Linda Swierczek, Kathy Swoverland(r), Sharon Szadowski, Diane Tesinsky, Patsy Tongren, Eileen Homo-White(r), Terri Wilson(33)

(r)=rifle




DRUM MAJORS:Judy Naples-Thompson, Serge Uccetta, Paul Zimny

HONORARY MEMBERS: Debbie Galli, Reginald "Sonny" Burke






2003: THE YEAR IN PICTURES






CLICK HERE FOR MAIN PAGE